TWO POSTS IN ONE MONTH?!?! OH MAH GOSH, Y'ALL LOOK AT ME!!
A wonderful member of my comm posted a yearly questionnaire and since I had some time, I decided to make a post about it. It'll be interesting to compare my responses from last year to this year.
I couldn't decide on one look vs. the other, so I choose three! I wore the first coord (Meta's Blooming Garden) at A-Kon 2016, the second coord (Fanplusfriend JSK) in March and the right coord (King's Key JSK) in October. I love how my style has changed from what it was just a year ago. I'm proud of these looks.
2. Least favorite look of 2016


This was actually a hard question. I had two coords that I felt pretty meh about, but this coord in particular was probably the worst I've made since my "ita" days. I believe it was a combination of poor make-up choices/too much white.
I was super disappointed in this coord.
I was actually happy with the skirt + blouse combo, but another wig and better make-up are definitely needed to fix this. I'd change the shoes too. Things like this keep me humble though!
3. Favorite purchase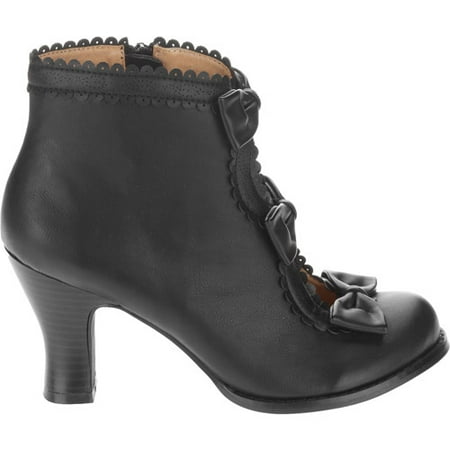 MoMo Victorian shoes, stock photo! I do not own!

These shoes are my favorite purchase of 2016. I'm not quite sure when I got them, buuuttttt I'm pretty sure it was at the beginning of the year. They're quite comfortable and pretty versatile. I've worn them at least five times since I bought them.
4. Least favorite purchase



My least favorite purchase was this Berry Mori dress in sax. I was so in love with the pictures, but I hated how it looked on me. I also hated the fact that the sax dress and the mint dress looked basically the same, -__-
I wore it once and sold it immediately afterwards.
5. An item you wished you purchase but didn't.
Magical Etoile JSK in Sax
This dress has been on auction FOR MONTHS. Seriously, I think the first time I saw it was in March and the crazy thing is that it's STILL on auction, last I checked. I just haven't had any spare cash to get it, honestly. Hopefully, I can grab it next month!
6. Trends you liked and didn't like from 2016
The use of more star and constellation motifs was my favorite trend of 2016.
I don't like the new trend of wearing underskirts with everything. In my opinion, the only people that should wear underskirts are the people that actually need them. I see so many girls that are my height (5'2") trying to work them into literally every coord they own. It makes us short folks look even more stubby.
7. Favorite release of 2016
Antique Chocolaterie, I do not own!
Normally, I don't really care about new releases from Angelic Pretty, but Antique Chocolaterie makes me weak in the knees. I want to buy this dress in the navy colorway because I NEED DIS.
8. What were your fashion goals of 2016? Did you achieve them?
My fashion goal for 2016 was to get more wigs and hats. Check and check, y'all! I've completed my goals!
9. Predict the new trends for 2017

I see the return of toned down Sweet and a lot more Wa and Qi-Lolita prints. I also think we'll have an emergence of more Indie/Taobao brands.


10. 2017 releases you are excited for
Stock Photo, I do not own!

Once again, I've got to give this to Angelic Pretty. Wonder Fortune is like a hybrid dress of Wonder Queen and Wonder Story AND I NEED IT ON MY BODY RITE NAO. Lawwwdd, this dress is freaking beautiful and it comes in sax. *heavy breathing*
11. Fashion goals for 2017
I want 2017 to be the year of dream/wishlist dress. Even though these purchases will be a lot more expensive (and painful for my wallet), I want to start buying the prints that I've really kept an eye on over the past four years. With this in mind, I can start saving up for these major purchases, which in turn will cause me to buy a lot less at once time. I'm doing pretty well accessory wise and once I get a few more blouses, I'll be fine on that category as well.
What are your goals and plans for 2017?? Tell me all about them in the comments below!
Stay beautiful, stay true.
~J