Happy May, y'all! It's almost time for A-Kon 27 and I'm totally not ready. Since I'm on staff with the J-Fashion Track this year, I've learned so much more about the convention scene. Being in charge of my own con is constantly an eye-opening experience, but I never would have imagined I'd be working for a convention this size. Still, I'm thankful for the chance and I plan to make A-Kon staff proud! But in making them proud, I gotta look goooooddd, y'all. I can't just show up in front of the guests with jacked up coords!
Since I needed stuff for A-Kon, I did another Taobao GO! It seems like I do these things a lot, haha. I think it's because I have a shopping problem, XP
This time, I decided to expand my horizons and try a new shopping service! I'm experimenting with SpreeNow for several reasons, but mostly because Yoybuy doesn't do Taobao reservations. Taobao shops have been stepping up their game lately, and wrecking havoc on my wallet with all these reserves. Usually, the deposit price is ridiculously affordable too -- they can run anywhere between $5 and $25. After the deposit has been paid, the buyer then pays the remaining balance on the due date. Most sellers will not let you cancel the order.
The only downside to a reservation is the wait time. Typically, reserve items take months to complete. For example, my first reservation was made back in March and I still haven't made the second payment or even heard an ETA from the SS OR the shop. There's no telling when it will be done at this point. The other items I've reserved are going to take just as long, unfortunately.
So, SpreeNow. I won't go into extreme detail on the ordering process, but it's actually super easy and user-friendly. So far the only issue I have with them is the payment system. Prices are shown on the website in Chinese Yuan, but when I pay for my items with Paypal, SpreeNow converts the balance due to Hongkong Dollars AND THEN the items can be paid for in US Dollars.
My concern with this method is the amount of fees involved with each conversion. There's a Paypal fee for even using Paypal as a payment method, plus a conversion fee from USD to HKD. The silver lining in all this is that SpreeNow converts the Yuan price to HKD pretty well. Still, it's a bit nerve-wracking to see all those different currencies floating around and it makes me wonder if the prices are accurate.
I will, however, commend SpreeNow on their shipping! SpreeNow offers about four different shipping methods for small orders, or more if you order something heavier. For my first SpreeNow purchase, I ordered a pair of tights and shipped them using SingaporePost.
I was afraid to try SingaporePost to ship my items because whoooaaa the Internet doesn't care for SingaporePost. Since it was SO MUCH cheaper and I had time to spare, I just said, "Screw it!" and went for it.
If you need items in a hurry, I do not recommend using SingaporePost. If you are the type to worry about packages or need constant tracking updates, I do not recommend SingaporePost. But, if you have time to spare and you're not super afraid to lose anything, then SingaporePost is cheap and fast enough to get your stuff to you in about two weeks or less.
The tights I ordered come from a shop called Mola Mola! They're super cute and comfy~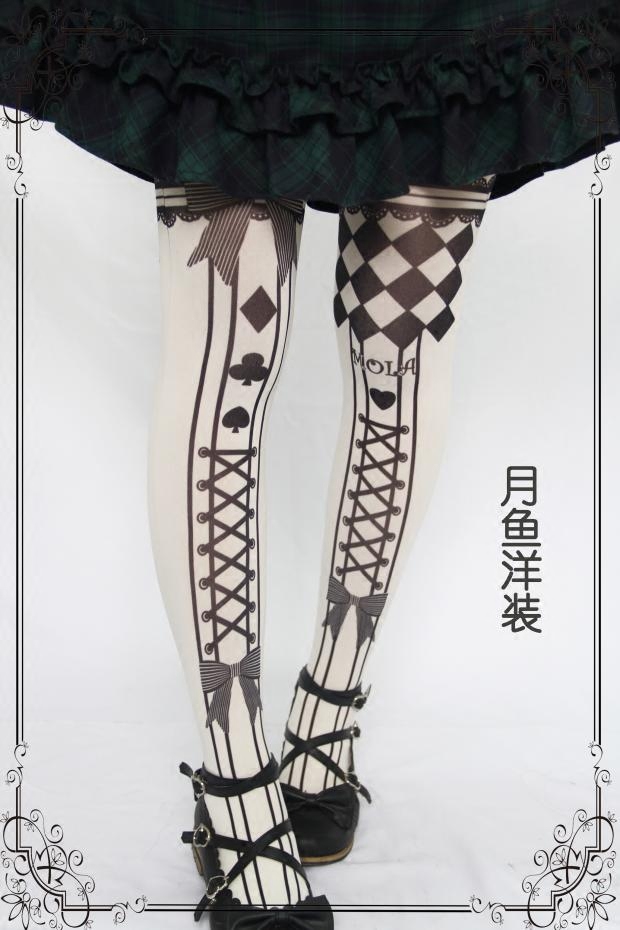 Stock Photo, I do not own!
I wanted these tights to wear with my coord for the Lolita Tea Party at A-Kon. I also plan on pairing them with Star Night Theater and a few other dresses that I own. They stretch well and they are sooo soft and smooth.
At 5'2", I'm pretty average height for Taobao tights but I got thick thighs (LOL) and they make the print stretch but not so much that it looks bad. I love the way the tights were printed as well; I'm not worried about the design peeling off or anything. *See UPDATE BELOW*
Most of Mola Mola's tights come in one size fits all. I've noticed that tights with a higher denier (thickness) usually fit me so I'm guessing those types (IE 80D VS 120D) are more stretchy. I don't know if that's actually true or just a blogger theory though so please don't bank on that, haha.
My tights!
I love the tights and I love Mola Mola. They don't have a very large selection, but you can check out their stuff
here
. Most of their tights are on reserve so you'll have to find an SS that accepts reservations.
*UPDATE 9/14/16* - I had such a positive review for these tights but they're absolutely wrecked. The tights are super delicate and the shoes I wore scratched up the fabric so much that the pattern completely rubbed off around the ankle. I'm actually not sure I can recommend Mola Mola until they find a better method of printing their tights. I'll have to drop my review down to a 3/8, because while these tights are pretty, they're pretty much wrecked after a single wear.
I'm a firm believer in the old adage: "If it ain't broke, don't fix it." Though it's a bit of hassle to use two different shopping services, Yoybuy has always treated me well, so I plan to keep using them for most of my Taobao orders. If I completely switch over to SpreeNow, it'll be because of reservations and cheaper shipping.
I wish I could say Google Translate was helpful while looking for this shop, but as you can see by the translated shop name, it absolutely wasn't, >_>
I happened to see these shoes on Facebook one day and I HAD TO HAVE THEM! I was able to find them by doing a reverse image search of the shoes. These cost me about $25 with domestic shipping and SS fees. I ordered them in a size 38. For reference, I wear a US size 7.5.
I ordered the shoes in white because I'm really rough on my shoes and my other pair of white RHSes separated at the sole. The first thing I noticed when I took these shoes out of the box are the comfort soles on the inside. Once I tried them on, I could already feel the difference. They fit perfectly and are pretty comfortable! The platform doesn't feel heavy at all.
Look at this terrible box!
The shoe box was all bent up and looked pretty bad in my massive Taobao box, but my shoes look fine! I would have liked them to have a bow on the front somewhere, but it's still cute.
Dat sexy side profile
Shop with the super long name, you get a 6 out of 8~! Gimme an extra bow for my shoes, and maybe I'll bump you up to a 7, XP
If you'd like to take a look at more shoes from this Taobao shop, click this
link
.
I ordered two wigs from Cucumber Family. I've purchased wigs from them before so I won't go into crazy detail about them BUT LET ME TELL YALL ABOUT THESE WIGS! *Flails*
Wig stock photo, I do not own!
I took these babies out of the bags and Fell. In. Love. They're so pretty! They're so soft! I'll try to stop fangirling, but I can't make any promises.
Ta da~
It's really rare that I can find a blonde wig that I actually like. This wig comes in three colors -- I got it in flax. I love the shorter style and I think it'll be really great for the summer time. The other wig I ordered from Cucumber Family is this long, Gothic style wig. It's like this off-black, purple, brown combination that is freakin' beautiful. I'm so happy I bought this wig.
Stock photo, I do not own!
Truth be told, I want these wigs in every color they offer. I know I don't *need* them in every color, but itttttt'sssss sooooo prettttyyyyy~
Look at it!
I have such short arms! I need a selfie stick OTL
The purple sheen of the wig is hard to capture with my terrible point and shoot, but I love the wig nonetheless. It's super soft. My only concern will be keeping the wig free of tangles, but I can't wait to wear this wig with my coords! 8 out of 8~! I need MOAR!
To check out the other awesome wigs from Cucumber Family, click
here
!
Honestly, I have mixed feelings about this shop. It's not even a quality issue though -- it's the photography. The stock photos are great and the items match the stock photos, but... well, I need you guys to be honest with me...

Don't these socks look white?! They look white to you too, don't they??
Stock photo, I do not own!
But my socks are GRAY. They are really, definitely gray; I thought these socks were white and nope! Wrong color, >_>
I can't tell if that stock photo was playing tricks on my brain or if I was just projecting my strong desire for white socks onto the picture. But seriously, I thought I would be getting white socks.
I put them side by side with my WHITE gloves for comparison.
GRAY socks, GRAYYY!
Regardless, the socks feel nice on my feet and they are made from a good material. I just can't get over that color! I think it will still match with my coord, but GRAY. Uggghhhhh.
I recently reserved a pair of tights from Nyanmi Dolls, so they'll get a second chance with those. Here's hoping they don't suck~! For now, this shop gets a 5 out of 8 from me. The socks are lovely and they fit, but I can't get over that gray/white mix up.
Visit Nyanmi Dolls website, with this
link
.
Stock photo, I do not own
These tights don't fit and I needed them for an A-Kon coord. Looks like they're getting thrown in the swap pile! -__-
I won't even bother reviewing them or taking a picture because I review Mu-Fish all the time and I'm annoyed my tights don't fit, bleh.
Stock photo, I do not own!
Sosic shop is my favorite Taobao shoe store for a reason! I won't review them since I've talked about them before. Instead, have some photos~
So pretty~
Super cute!
Alice Girls Hand Square (ROFFFFLLLLL, that name!) is a one crown Taobao shop with an array of hats, accessories, and headwear. I bought this hat to wear with an A-Kon coord, and I can say I was pleasantly surprised by how elegant the piece looks.
Stock photo, I do not own!
The construction is solid and the flowers aren't falling off! Hoorayyy! I especially liked the way the shop shipped the hat to me. It was wrapped in bubble wrap and then placed inside a plastic bag to keep the flowers from being crushed during shipment.
The hat (fascinator?) also came with a white ribbon. I haven't quiiiiiitteee figured out the logistics of the ribbon + hat, but I managed to get the thing clipped to my head properly.
Realistically, Alice Girls Hand Square dosen't have many items that I would order besides this hat. That's not to say that they aren't a shop I wouldn't order from again, but more so that I don't imagine I'll see something else that I'd want from this shop.
I have a lot of stuff to review and write about, so I'll try to get to work on that soon. I recently found a K-Beauty supplier online, so I definitely want to talk about that store and everything I ordered from them.
But seriously yall, those freaking socks look white in the picture! Have you ever had a color mix-up or made a mistake while ordering from Taobao? Let me know in the comment box below!
Until then, kiddos!
Stay beautiful, stay true,
~J