Das Lied Der Elfen: Kingdom of Heaven (King's Key) JSK, Yidhra, and a (Negative) Loli-Loli Paradise Review
Lately, I've been on this Taobao reservation kick. My, how dangerous this is for my wallet!
Taobao reserves are an interesting animal. Basically, the buyer finds a shopping service that is willing to accept reservations for new and upcoming items from a Taobao shop. From there, the SS orders the item, the buyer makes all the payments required (usually two) and the waiting game begins.
For this dress in particular, I had to wait somewhere along the lines of three months. I ordered my JSK in about March and I got it after A-Kon (or something like that).
It was sooooo worth the wait.
Before I pick apart my JSK, I want to first bring a bit of attention to the SS that I used to order this dress: Loli-Loli Paradise.
DO NOT ORDER FROM LOLI-LOLI PARADISE
.
I put that in all caps so that you can understand the seriousness of what I'm saying. Don't order from them (her?); just don't even bother. While I personally don't think she's a bad person, I think the owner of that shop is going through some life changes and as a result, is seriously neglecting her customers. I was lucky that this item was sent to me prior to her going on hiatus, but it's been such a hassle to get in contact with her for the other items that I had on reserve. At this point in time, nearly all of her reserves are in a limbo that's lasted for longer than two months.
*Instead*, I highly recommend Spreenow for all your reservation needs. In fact~! I'm now an affiliate for Spreenow! Use this
link
to place an order from this awesome company.
Stock Photo; I do not own!
I ordered the King's Key JSK in Navy! Goodness gracious, this precious bby belongs in my closet. I love this dress so much; y'all don't even know. I got the dress in a size M-L and it has full back shirring, yasssss!!
Kingdom of Heaven JSK
The first thing I noticed upon opening my package was that the dress came sealed in it's very own dress-sized ziplock bag! How cool is that?? It was perfectly sealed and protected when it arrived and I was extremely thankful for that. I can only imagine the damage a wet package would have done to this dress.
Close-up of the seal
Out of the ziplock!
The first thing that caught my eye was the vivid, shimmery color of this gorgeous dress. I love the way it was printed and the fabric is so nice! Have some more pics!
Close-up of the print
Lace and detailing
Look at those gold threads!
My first and only complaint about this dress are the detachable bows. Why are they yellow?? Your guess is as good as mine. I kinda stared at them for a bit, but maybe they'll look better once they're actually worn with the dress. I'm not sure.
Weird yellow bows
The first thing I did was hang my dress up to get a better look at the length and the material. Woooooooooowwww. That's really all I can say. So pretty. Much frills.
Hubba-hubba~
I flipped it around to take a look at the back. The shirring is super stretchy and it definitely fits my 102 cm bust! HOORAY!
The back shirring!
I'm using the heck out of the zoom on my camera for these next couple of shots. The interior of the dress feels nice, and the straps are adjustable with buttons. I didn't have to adjust them at all when I tried the dress on, but it's a good feature. I will say that at 5'2" this dress is a respectable length on me with a petticoat. I don't know if I would recommend this dress for anyone taller than about 5'5" without an underskirt.
Close-up of the back
Button holes on the straps
This brand has pleased me immensely! 8/8 for Das Lied Der Elfen! I'm definitely going to keep an eye out for any of their other releases because goodness, I am impressed. You can take a look at their Taobao page
here
.
Stock photo, I do not own!
This review will be pretty brief since I didn't take many pictures for these tights. But HOLY CRAP, Yidhra is amazinnnnnggggg!! Their tights are so soft and smooth and amazing and beautiful. 10/10, would definitely buy from again.
I bought these tights mostly to wear with this dress. I ALSO bought these babies because for some reason they really remind me of the Astrologian class that I play in FFXIV. Seriously, look.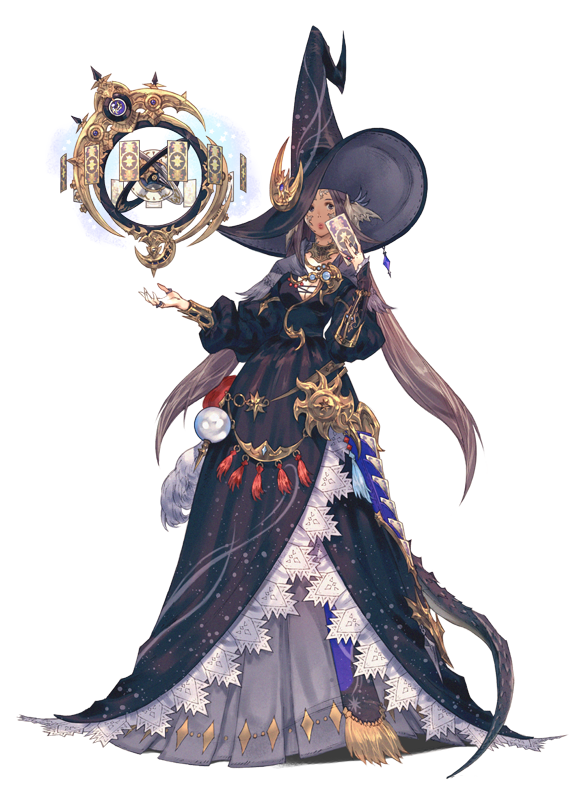 I do not own this picture, but I play this class!
Lolita + FFXIV = WIN. So basically, I had to have these. But enough about my reasons for buying things, let's see the tights!
My tights!
Though the gold looks a little on the orange side, on my legs the colors lighten a bit due to the stretching of the tights. These fit really well and are super comfy, so that's a plus. They're on the thicker side.

And speaking of thicker! Yidhra has this cool chart where they will tell you both the size range and the thickness for the tights that you're ordering. Check this out.
Thickness and sizing chart, I do not own!
The information provided shows that the tights are 120 Denier so that means they are in a mid-range of thickness (according to the chart), and can be worn in both the summer, spring, and the fall. They aren't so thick that they'll keep me warm in the winter, but since I live in Texas, that's a non-issue, XP
8/8 for Yidhra! Visit their
shop
and take a look at all the unique designs!
Have you reserved any items lately, or are you playing a reservation waiting game like I am? Let me know in the comments below!
Stay beautiful, stay true, <3

~J